🔱Candle factory: how a former monastery novice founded a business with a revenue of 13 million rubles a year
A resident of Kursk, Sergei Mauser, was going to take a monk's hair, but could not resist worldly temptations: other novices posted his photo on a dating site to test the seriousness of their intentions, he met a woman and left. And in order to feed his family, he became an entrepreneur. First he sold candles to temples, then equipment for their casting and production. Having provided customers with products for years to come, he almost ruined his business, but teamed up with competitors, reformatted the business and plans to expand the range. His company "Preobrazhensky Candle Brotherhood" produces from 200 to 500 kg of candles per day, revenue for 2016 - 13 million rubles. The entrepreneur told Inc. how he bypassed the monopoly of the official suppliers of the Russian Orthodox Church, what digital marketing skills helped to find clients in rural parishes, and why chocolates with Orthodox symbols are needed.
---
Sergei Mauser (Kargopoltsev) learned how to make church candles at the Prophet-Ilyinsky monastery in Bashkortostan, where he spent almost ten years. In 2010, he left the monastery and settled in Belgorod, worked as a storekeeper, a freight forwarder in the Ignatie-Stavropol sisterhood - he traveled around Russia with icons, candles and other church goods. There was enough money for himself, but when Sergey decided to marry, he realized that in order to feed his family, he had to create a business.
He decided to pour and sell church candles - he ordered a mold from the Ukrainian company "Sirius" for 30 thousand rubles, bought wax and paraffin and started a business right at his mother-in-law in the barn.
- I decided: I will become number one in this topic - or disappear. To stay afloat and feed my family, I needed 500–1000 rubles a day. I started selling candles for 300 rubles for a two-kilogram pack, - Sergey recalls.
---
"Preobrazhensky candle brotherhood" in numbers
source: company data
---
200-500
KG OF  candles per day is produced by the company.
---
15–20
THE  company spends THOUSAND RUBLES a month on promotion in social networks.
---
13
MILLION RUBLES -  revenue for 2016.
---
90-100
RUBLES - THE  cost of 2 kg of candles.
---
350
RUBLES are paid by temples for 2 kg of candles.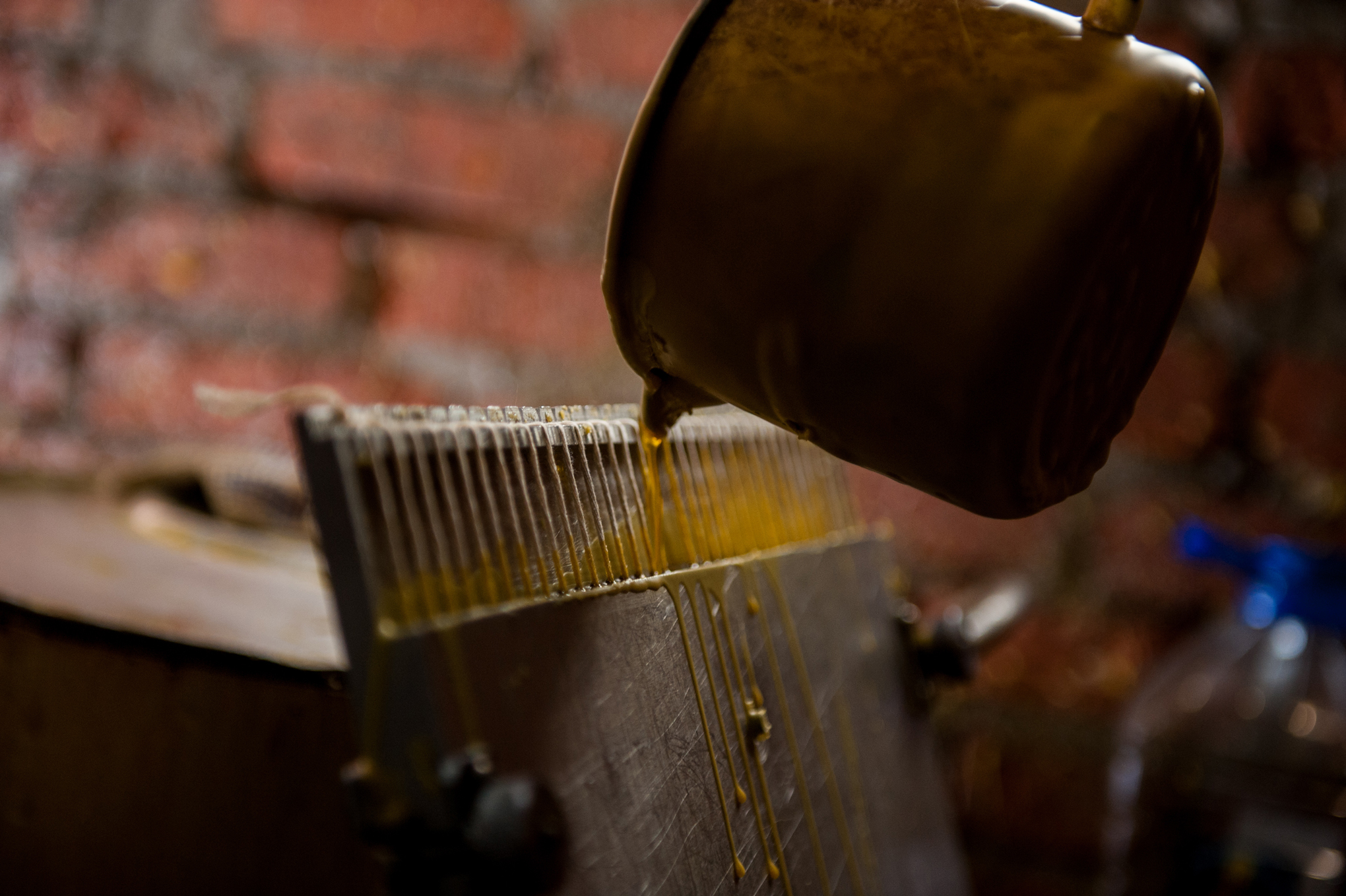 Photo: Andrey Beshentsev / Inc.
---
Rub into the confidence of believers
The market for goods for the ROC has always been closed and it was extremely difficult to enter it. Sergei offered his candles in the surrounding churches - but he was refused. I had to develop a special methodology:
- I understood: for the next five years I will live comfortably if 12 churches regularly buy candles from me. All that remained was to find these temples and become "theirs" for them.
Sergei traveled to nearby towns, lived in hotels at pilgrim centers and became a parishioner of local churches: he attended services, communicated with the rectors, and helped collect donations.
- Wherever he could show himself - and in a few weeks he was going to leave, and the abbot asked me: "Sergius, why are you leaving?" I said, they say, family, you need to earn money. "What are you doing?" - candles. This is how a loyal customer appeared.
There were more and more "loyal customers". Sergei sold 2-4 packs of 2.5 kg each (a standard measure for church candles), or 5-10 kg of candles per day. To increase sales, I began to study - I watched the videos of business coach Andrey Parabellum on Internet promotion on the Internet and even took a training in Moscow. After the training, he took the sonorous pseudonym Mauser and began to apply the knowledge gained in the conservative environment of the Russian Orthodox Church.
---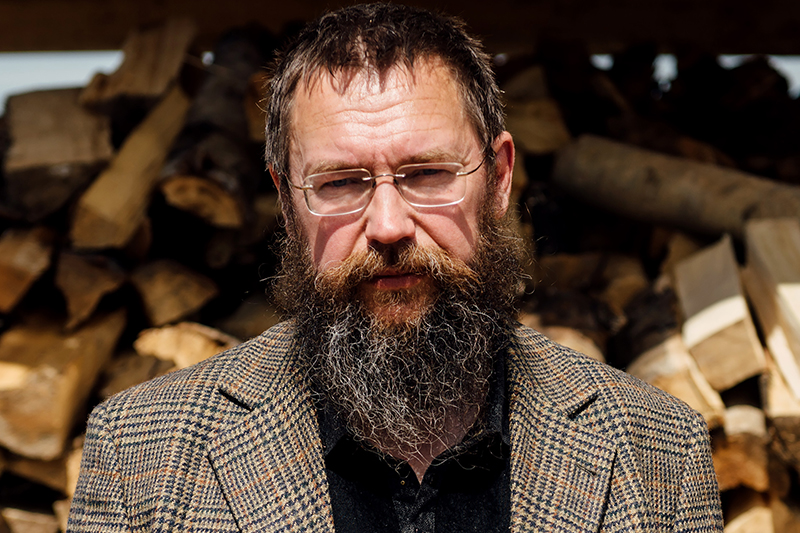 READ ALSO
"Bread and Salt": how German Sterligov sells bread at 1,500 rubles per loaf (concluding all contracts in words)
---
You can't go around all the churches personally, and Sergei came up with a more effective way of promoting. During the training, he learned how to create landing pages - one-page sites with a form with only three fields: "Name", "Phone" and "E-mail" - and sent them to monasteries to collect contacts of potential clients. According to Sergei, he created more than 50 such sites at once to fill the search results with them.
"On these sites, I mentioned free shipping and put my name everywhere so that it became known in the church environment - it helped to overcome distrust," he says.
So Mauser created a database of potential clients - now there are almost 5 thousand temples - to whom he could offer his services.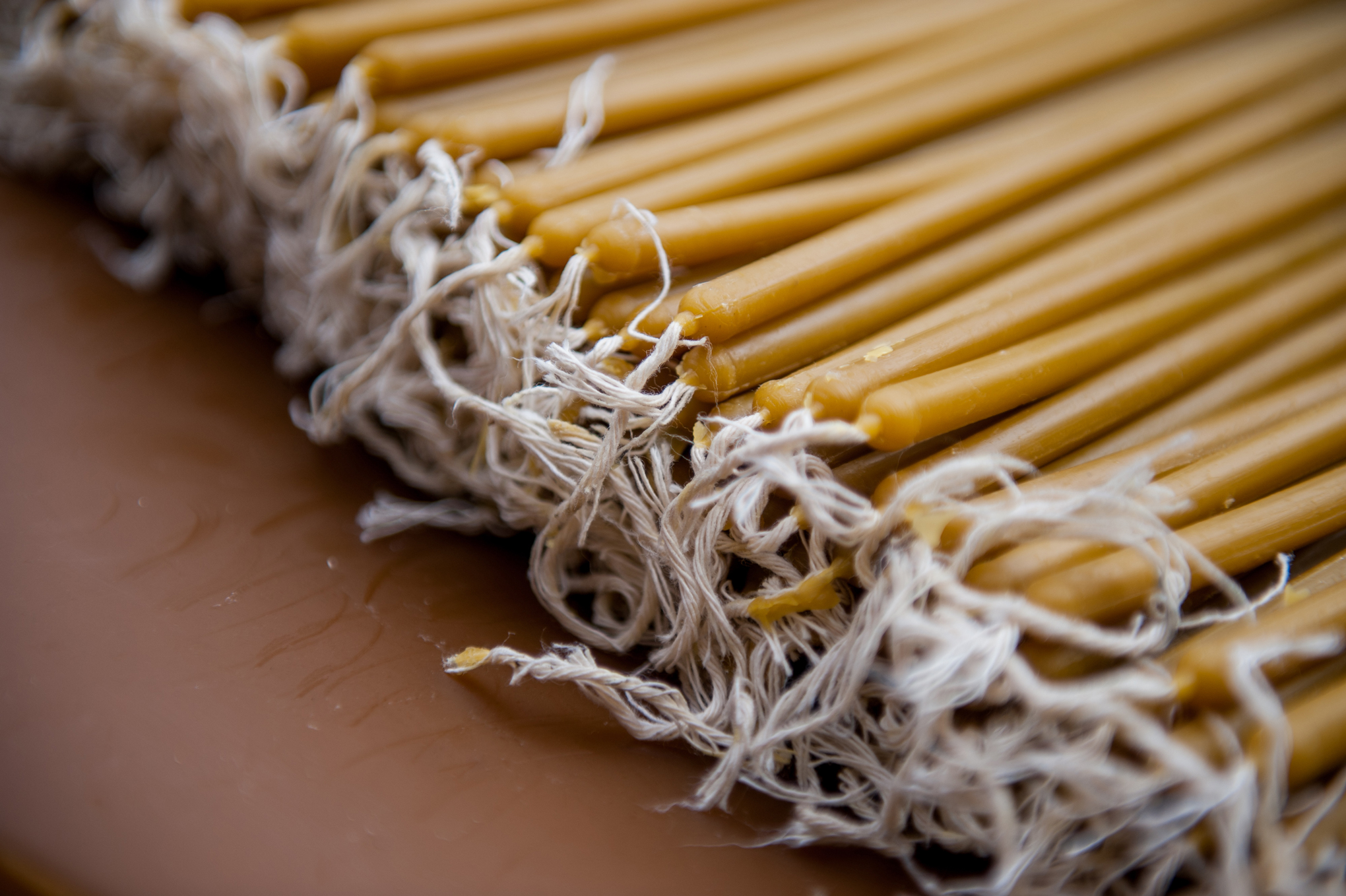 Photo: Andrey Beshentsev / Inc.
---
Rise and fall
In 2012, a familiar church rector from Belarus suggested that Mauser make aluminum molds for candles. Having studied the market, Mauser found out that the main manufacturer is the Ukrainian private design bureau Sirius. Their forms are quite expensive - one piece costs from $ 135 to $ 900, depending on the design - and Sergey saw a niche: he decided to make a product available to rural parishes.
"At that time, a mold cost 25-30 thousand rubles, and a rural church could spend no more than 10-15 thousand on it. I set myself the task of making such equipment half the price," says the entrepreneur.
---
READ ALSO
In the footsteps of "Leviathan": how rock musicians made business on excursions to Teriber
---
He found a way: to make molds not from aluminum, but from wood (this is how candles were poured in the old days). Sergey registered an individual entrepreneur, rented a room in Belgorod for 15 thousand rubles a month and bought a milling machine for 1.2 million rubles. To raise money, he sold the inherited room in Ufa for 900 thousand rubles, borrowed 200 thousand rubles from friends, another 100 thousand rubles were saved from the candle trade. He hired a milling machine operator (for 1,000 rubles a day), and he himself became a process manager (later he hired an assistant for 15,000 rubles a month).
The quality of candles made from wooden molds was lower, but Mauser sold them on average for 15-20 thousand rubles (at a cost price of 4-5 thousand rubles). To make the temples more willing to make orders, he was ready to send forms without prepayment throughout Russia, donate 100 m of wick and open access to a training video course on the start of candle production.
---
- I immediately came up with this action - so that it would be difficult to refuse my offer and to be head and shoulders above the competitors if they appear, says Mauser.
---
Familiar abbots and temples from the previously collected database became clients. Wooden forms began to be ordered from northern monasteries (Nikolo-Korelsky monastery in Severodvinsk, Arkhangelsk region), for the sake of tourist excursions: inhabitants in bast shoes demonstrated the way of the monastery in the old days - including candle production.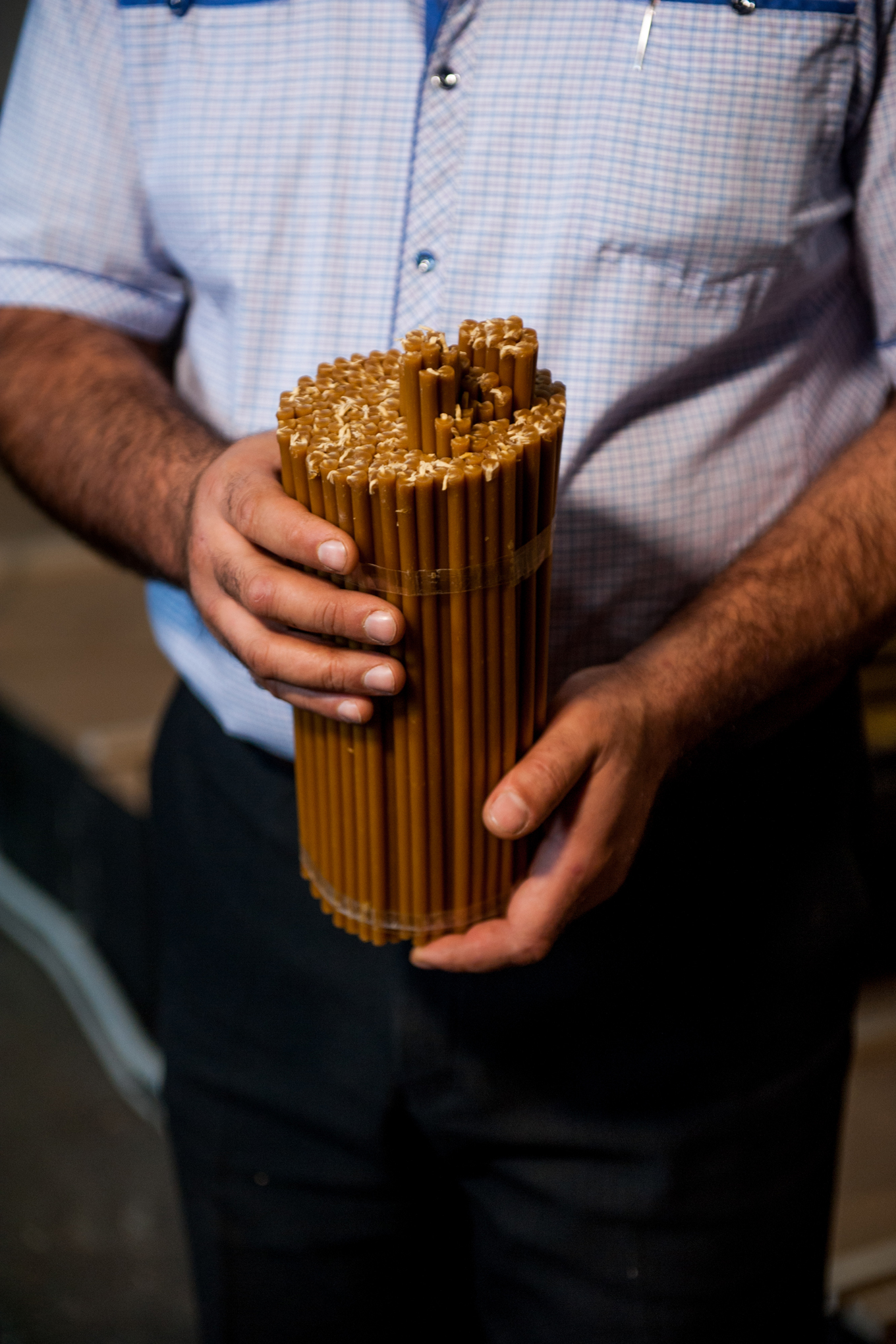 Due to the low price, the demand was great - 4-5 forms were ordered daily, the revenue was about 100 thousand rubles per working day. At that time, Mauser moved away from the production of candles - it was much more profitable to sell molds:
- If we sold candles at a maximum price twice as high as the prime cost, then the molds were 3-4 times more expensive.
According to Mauser, as a manufacturer of candles or molds, he did not meet the resistance of the monopolist in this market - the art-production enterprise "Sofrino", for which small producers were "like a fry against a whale." However, in 2014, he faced an unforeseen difficulty - the patriarchy "strongly advised" churches to buy candles and molds only from certified manufacturers (that is, Sofrino). However, churches buy candles where it is cheaper, so the market lives on, Sergey explains:
- Father is also a man, he still has 4-5 children at home, and he has to spin. It is more profitable for him to buy from small manufacturers.
But in 2015, mold sales plummeted. After analyzing the situation, Sergey realized that there are many competitors on the market, in addition, the equipment for casting candles is designed for 15-20 years and has not exhausted its resource from those who purchased it:
- I began to ring up my base, asking if we still needed uniforms, and the priests said: "Sergius, where do we need to salt them, or what?"
As a result, in 2015, Mauser sold his equipment for 350 thousand rubles and refused to lease the workshop.
---
NIKOLAY MITROKHIN
sociologist of religion, researcher at the University of Bremen: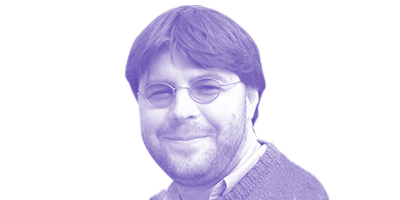 ---
The sale of candles brings 70% of the income to the temples, and the mark-up on candles can be up to 5 thousand%. This is hundreds of kilograms of candles per year for one temple. A candle is a form of monetary contribution of believers to a temple so that it is heated, illuminated and something goes to the priest and workers. In Russia, people in churches are not very willing to donate money, but they are happy to buy candles. Within the framework of the church system, the value of candles is well understood, so there is a serious struggle for the people to put only candles bought in the temple, and not buy them in a hardware store for a penny, depriving the temple of self-sufficiency.
At the same time, the production of candles is a narrow and high-risk market, in order to get there, you have to be strictly Orthodox with appropriate acquaintances. It is almost impossible for an outsider to enter here and do business.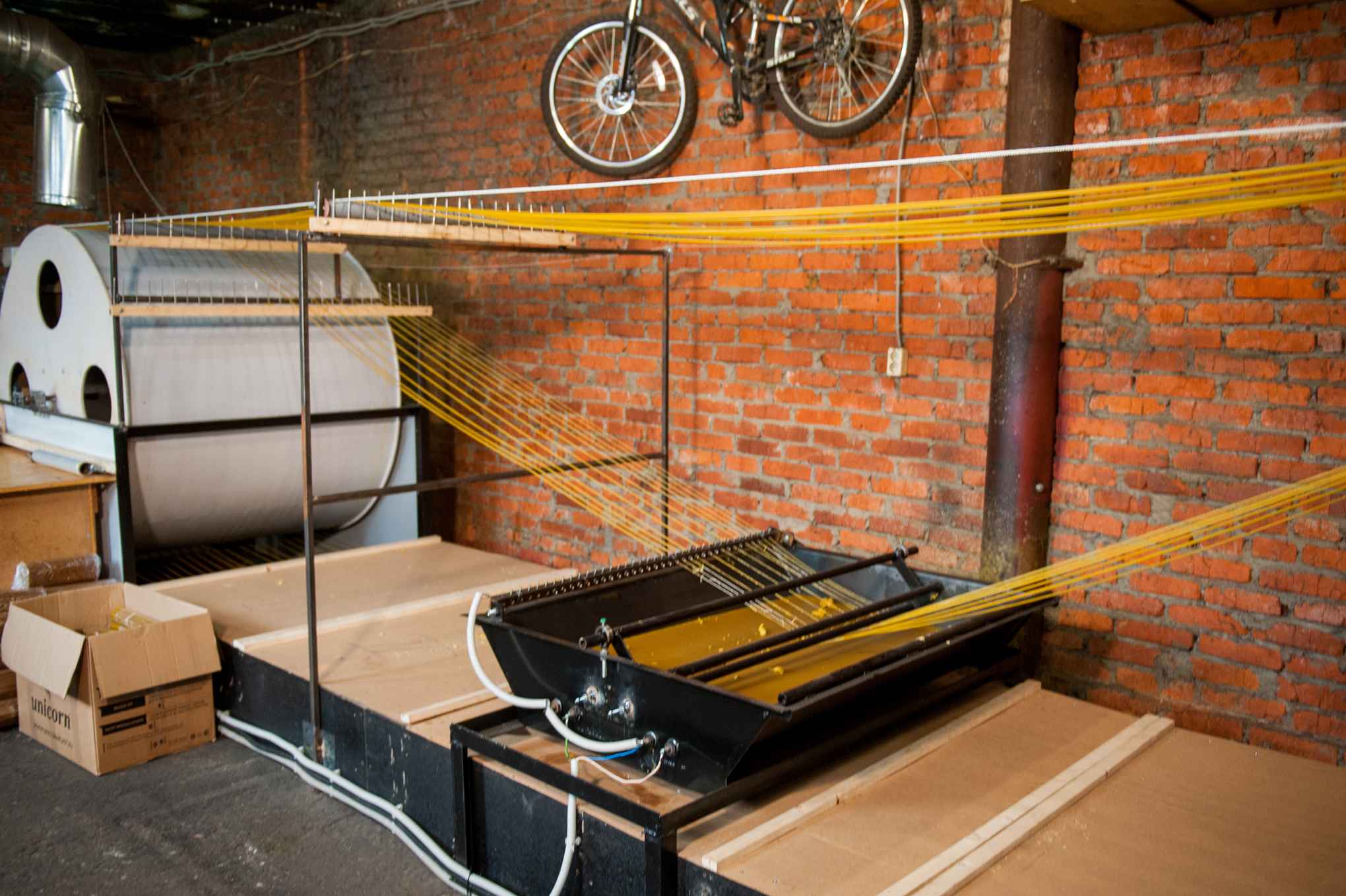 Photo: Andrey Beshentsev / Inc.
---
"Preobrazhensky candle fraternity"
Sergei Mauser refused to manufacture molds and soon received an offer to unite from a former competitor from Kursk, Mikhail Gedakyan. Mikhail produced large candle lines at a price of 350 thousand rubles, and Sergey on this equipment again began to make candles, at the same time brought a large base of contacts and Internet promotion skills to the general business.
"He calls and says: let's unite, I don't understand on the Internet, you can share your experience," says Sergey.
At the same time, another competitor joined them - Sergey Vladimirov from Ivanov, a manufacturer of aluminum products. Mauser found him on the Internet and offered to remove online advertising in exchange for a stable 20 orders per month for aluminum candle molds, he agreed. Partners began to work under the Mauser brand "Preobrazhenskoe candle brotherhood", LLC "Pilot production", founded by Vladimirov, was used as a legal entity.
There was no need to buy equipment - Gedakyan already had a machine for the production of candles, and Vladimirov for the production of molds. Mauser brought his experience and connections with candlesticks, who sometimes order equipment and consumables from him for home or "garage" production. For attracting clients, Vladimirov gives him 30% of the profit, Gedakyan - 10%.
---
How to start candle production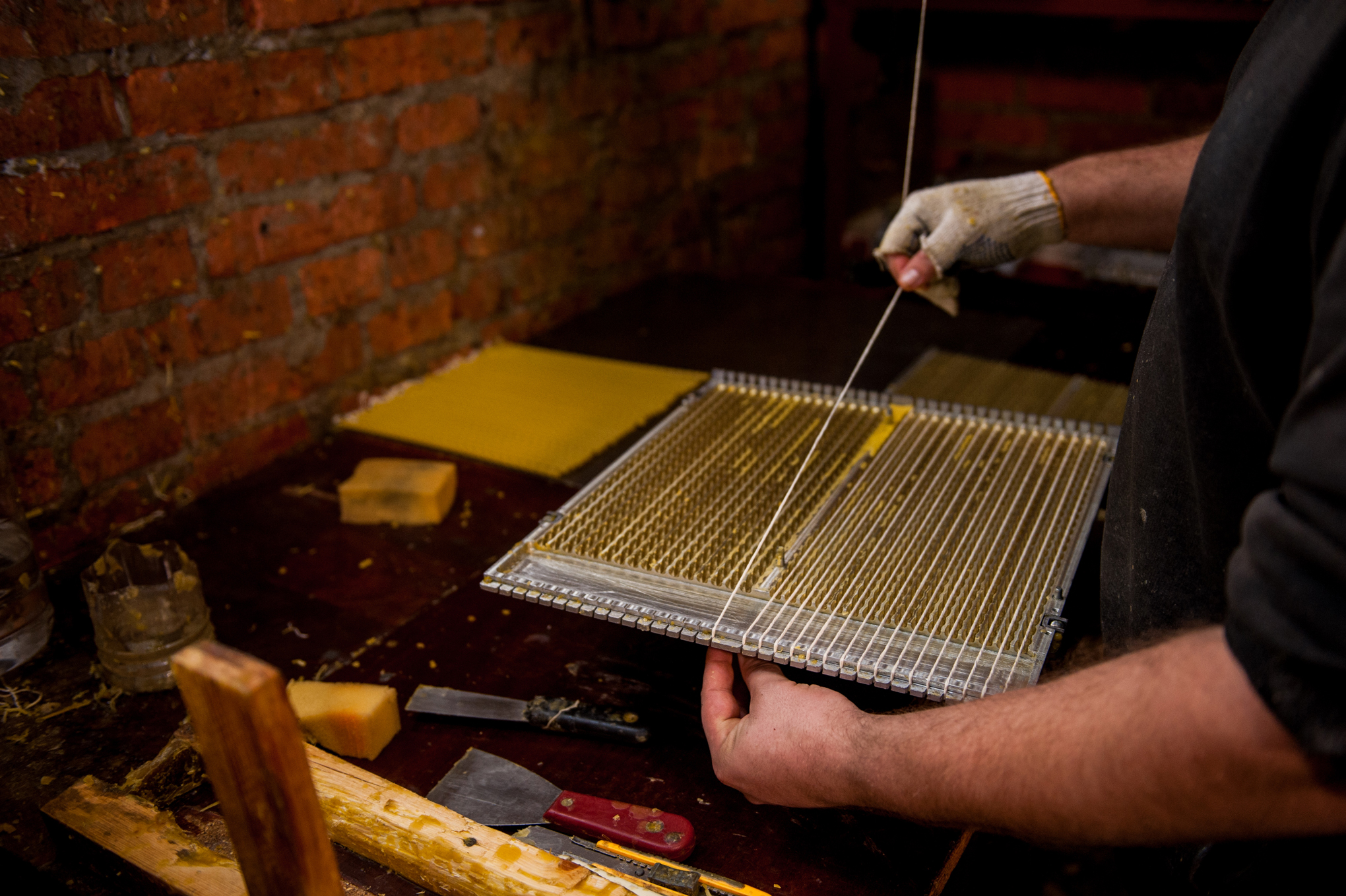 Photo: Andrey Beshentsev / Inc.
Depending on the scale, the production of candles is of three types:
one
MINI BLOCK
Initial investments (the cost of equipment together with the costs of wax and wick, molds, consumables) - from 10 thousand to 100 thousand rubles. For this money, you can buy 3-4 aluminum molds for the production of church candles - and pour them even in the kitchen.
2
MIDDLE BLOCK
From 100 thousand to 300 thousand rubles. This is an average production for people with minimal business experience and connections in the church market to negotiate sales.
3
LARGE BLOCK
from 300 thousand to 2 million rubles. This is a reel line, where the machine itself pours wax, disassembles and cuts candles, human participation is minimal.
Wax costs on average from 200 to 750 rubles per 1 kg (from beekeepers). But the cost of a two-kilogram pack of pure wax candles will be at least 400-500 rubles - this is unprofitable, since churches buy such packages for 350 rubles. To reduce the cost, candles are made of paraffin (it costs from 130 to 150 rubles per 1 kg, wholesale from 100 kg - at 150 rubles / kg, 20-30 tons - at 30 rubles / kg), and pure wax in the composition - only 10%. Taking into account additives, the cost of a pack of candles is 90-100 rubles.
There are two ways to sell candles to a church, says Sergei Mauser: register an individual entrepreneur or an LLC, or informally negotiate with the Metropolitan about opening a workshop on the territory of a church. The second path is illegal, but this is what many entrepreneurs choose: there are tax breaks in the Russian Orthodox Church, the absence of tax audits is guaranteed. You can try to secretly negotiate directly with the rector of a particular church, but this is "at your own peril and risk," warns Mauser: the metropolitan can find out and close the shop. In any case, without his approval, selling candles to temples will not work. But if there is a blessing, there will always be demand:
- Candles are like cartridges for a printer: necessary consumables, which are also very popular, because the mentality of the Russian people is that the more candles you put in the church, the more good you will get.
Today the company is engaged in the manufacture of candles and candle equipment, and candles and drums (machine tools) are produced in Kursk at Gedakyan, and molds - in Ivanovo at Vladimirov. The Brotherhood produces from 200 to 500 kg of candles on an automatic line and 40 kg of handmade candles per day. The largest part of the proceeds comes from the sale of production lines - the company sells 7-8 such machines a year at a price of 350 thousand to 2.5 million rubles (it takes up to 45 days to manufacture each). The total revenue of the project in 2016 amounted to 13 million rubles (Mauser does not disclose profit, but notes that the margin from the forms is 50-70% and is now decreasing).
---
5 mistakes in business development according to Sergey Mauser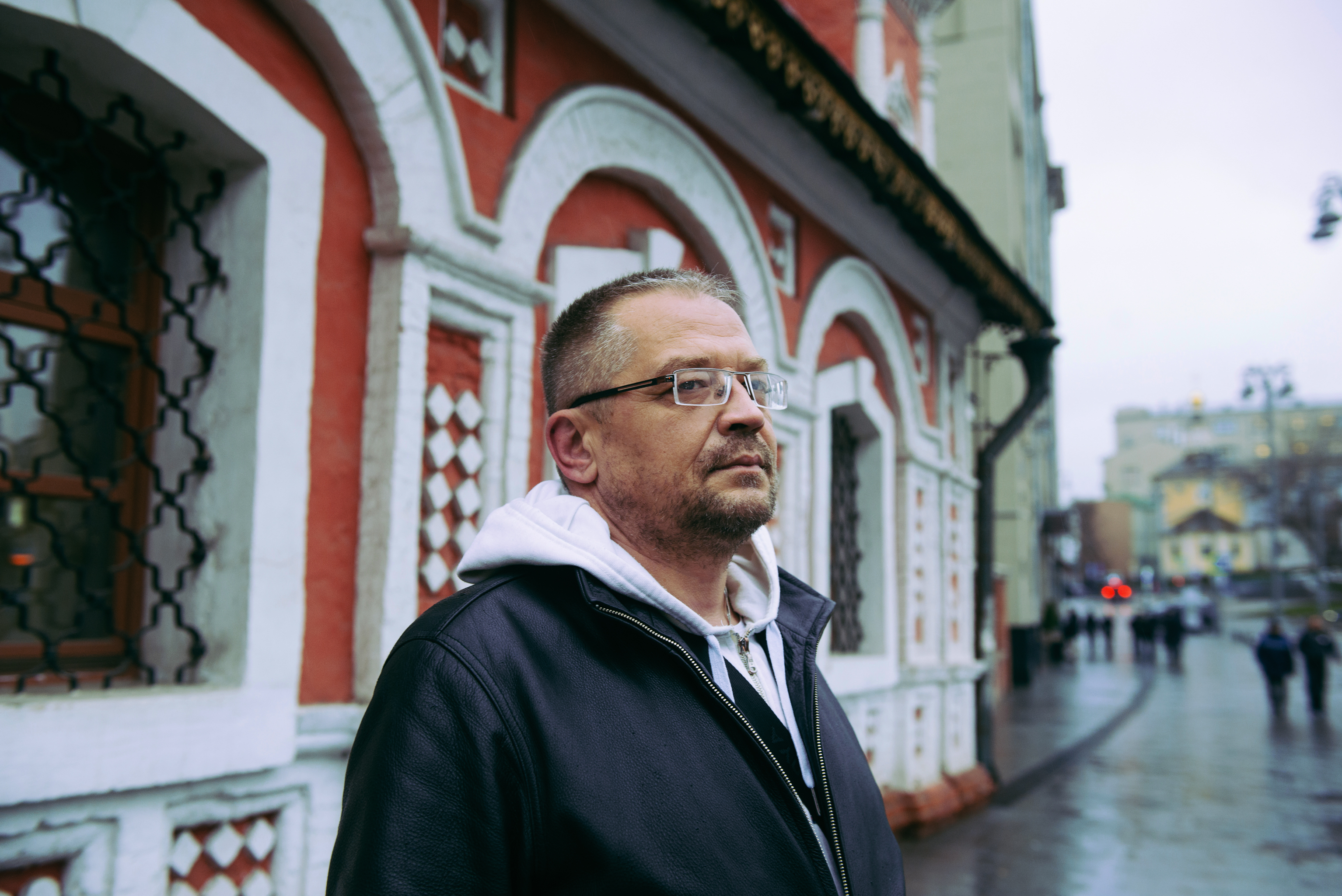 Photo: Andrey Stekachev / Inc.
one
DIDN'T KEEP CLIENTS
After the sale of the forms, I did not try to tie the client to myself - I had to try to conclude an annual contract for the supply of consumables (wick, wax, paraffin). This would make the business more stable.
2
STARTED DUMPING TO OUTFLANK COMPETITORS
Because of this, I lost my profit. Now, when a competitor appears, I would not only not reduce the price, but would double it by adding additional value to my product - for example, I would make candle molds with built-in audio prayers.
3
WHEN SELLING HEAVILY INVESTED IN DIRECT MARKETING
Instead of paying for online advertising, it was necessary to actively "huddle" people who could influence the rectors of the temples, for example, handing out leaflets to parishioners. They will definitely show them to the priest and sooner or later they will beg him to buy a mold for candles.
4
AT THE START, I DID NOT INVEST IN PHOTO AND VIDEO CONTENT
I thought I could do without it - but high-quality photos and videos helped to increase sales by 30%.
five
SOLD ONLY TO TEMPLES AND MONASTERIES
It would be possible not to be limited to the church audience - to conduct small master classes on the production of candles for children and adults in shopping centers.
---
Candles, hobbies and comfort
In 2012, Sergey Mauser began filming educational videos on working with candle shapes on his phone in order to attract customers. In December 2016, he reached an agreement with the rector and opened a mini-training center in the Church of the Transfiguration of the Lord in Kursk, where he began to conduct one-day candle making master classes. Initially, they were focused on clergy, but those who thought about making candles at home - as a hobby or a business - also began to come to classes.
The first six months of the master classes were free, today Mauser takes 3 thousand rubles for science (for three hours) - but returns them when ordering equipment or candles for a larger amount. During master classes, beginners can master the full cycle of candle production - hold a 10-kilogram mold in their hands, try to pour wax on their own and cut off ready-made candles. Sergey Mauser claims that he is not afraid to multiply the number of competitors:
---
- I decided that if you are copied, then you have nothing to worry about, this, on the contrary, is a sign that you are ahead.
---
True, at the beginning of autumn, the business had to be suspended due to the tragedy: a woman painter fell from the rafters and crashed in the church, and after visits by the police and the prosecutor's office, the abbot began to object to the visitors. Mikhail Gedakian supported the priest, Sergei Mauser wanted to continue working no matter what. The conflict almost quarreled the partners, but it was decided to look for new premises in Kursk, no longer on the territory of the temple, so as not to depend on the abbot.
In case business in churches stops for a long time, Mauser has a lot of other options: on the website he offers a wide range of goods - icons, church utensils, chocolates with Orthodox symbols, aroma lamps, incense for the car and even insect repellent candles. According to the entrepreneur, all these are the goods of the partners, which are in their warehouses. In fact, Mauser's online store is a kind of marketplace, which presents the products of the same small near-church businesses (the entrepreneur works with them on a barter basis):
- If we were selling only equipment for candles, it would look sad, but with a large assortment we win the audience, - says the entrepreneur.
The candlelight business is available mainly to those who have been cooperating with churches for a long time and have connections with church circles, Sergey admits. However, he also has a separate commercial idea for the future: he recently started making test batches of scented candles for the home, which he plans to sell to private clients.